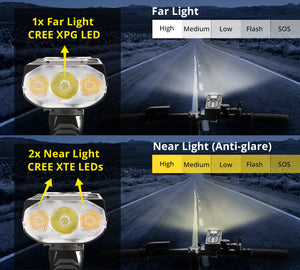 3 Lamp Beads
The latest 3-bead LED headlight has 1 XPG daylight LED lamp bead in the middle, and 2 high power XPG light LED lamp beads on both sides. Low power consumption and long life. When in near light mode, the light bulb colored lens cuts horizontally across the top of the irradiated light to prevent glare in the front and increase safety when cycling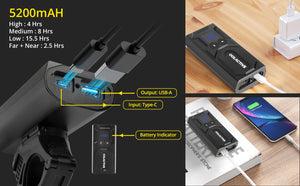 Large Capacity & USB Rechargeable Bi-Directional & Digital Display
Equipped with two 18650 batteries with a large capacity of 5200 mAh and can be used continuously for up to 15.5 hours. Clearly display the remaining battery digitally.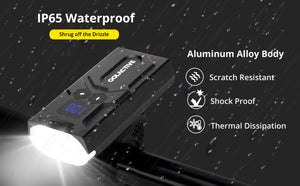 IP65 Waterproof & Aluminum Alloy Body
With IP65 waterproof technology & Made of aluminum alloy for impact resistance and a triple hard oxidation treatment on the surface for excellent abrasion and corrosion resistance.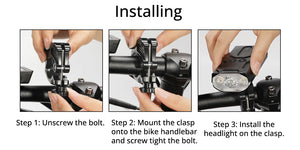 360° Rotation & Easy to Install
The light base has a 360° rotation function, allowing you to select any angle to provide a different viewing angle, so it will not fall off even on bad road impacts, and no tools are required for installation.
Fantastic bike light, will be buying a second one.
Awesome light. Highly recommended! Purchased in Australia off the Oolactive website. Light was delivered in 15 days from placing the order.
I purchased this light to replace a Lezyne 1300XL and wanted something that had a battery indicator as a major pain point with the 1300XL was you never knew when it was going to run out of charge. This Oolactive light is pretty close to the brightness of 1300XL, but in my opinion is better. There are more light settings, it's heaps easier to use, and the battery indicator is the best feature to be added to a bike light since LEDs.
The mount is a little clunky, but functional in a way that you're confident it's not going to fall off. Overall I'm very happy with the light and will be purchasing a second one.
The only thing I can't comment on is battery longevity.. something I'll need to wait a year to be able to do.